The Fourth Station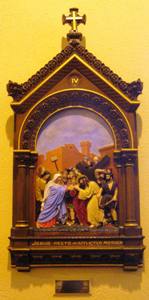 Jesus Meets His Afflicted Mother
A heart-rending scene. While Mary reaches out to her son, Jesus is about to be whipped by the man with the flagellum.
The man with the hammer and nails strains to get a better view and is in danger of hitting a soldier on the head.
The man with the rope is standing on the edge of Jesus' robe. The soldier with the red robe appears to be in charge and is standing next to Jesus and his mother, keeping things under control.
A high priest looks on from the back of the crowd, uninvolved.
The dedication on the brass plate below the tableau is:
IN MEMORY OF
THE PARENTS AND CHILDREN
OF JAMES AND MARY DELANY.