The Third Station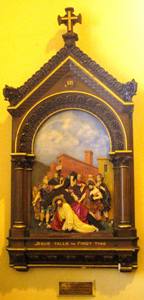 Jesus Falls The First Time
Jesus has fallen and a man carrying a flagellum (a whip used for scourging) is trying to pull him to his feet. The soldier has his left hand raised in protest. He wears a red cloak over his shoulders and so he is not the soldier that we mentioned in the second station.
The man carrying the hammer and nails in the second station is here again but appears to have changed his dark blue robe for a dark red one.
The dedication on the brass plate below the tableau is:
IN MEMORY OF
THE DECEASED PARENTS
OF JOHN AND MRS. POWER,
KILSTEAGUE.