The Second Station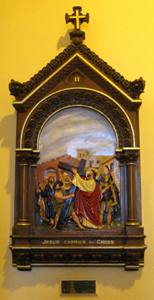 Jesus Carries The Cross
It was the custom of the Romans to leave the vertical shafts of the crosses in situ from one crucifixion to the next. So the victim was required to carry only the horizontal cross-piece, rather than the whole cross, but that would still have been heavy enough to a man weak from scourging.
In the background, fixed to the top of a spear, is a notice bearing the letters INRI. This is not Pilate's inscription, which was written in three languages, but is there to remind us that such an inscription exists. The letters are an abbreviation of the Latin Iesus Nazarenus Rex Iudaeorum which means Jesus of Nazareth King of the Jews.
On the far left of the tableau is a man in a dark blue robe who is holding a hammer in his right hand. He holds aloft in his left hand the nails that will be used to nail Jesus to the cross.
The soldier has in his left hand what looks like a sword, but he is holding it by the blade.
The dedication on the brass plate below the tableau is:
IN MEMORY OF
DECEASED PARENTS, RELATIVES,
AND FRIENDS OF
MAURICE AND MRS. DUNPHY,
CASTLECRODICK.