The First Station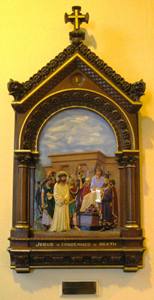 Jesus Is Condemned To Death
The tableau shows Jesus standing with hands bound before Pontius Pilate as the charges against him are read out –
"Now Jesus stood before the governor, and the governor asked him, 'Are you the King of the Jews?' Jesus said, 'You have said so.' But when he was accused by the chief priests and elders, he gave no answer. Then Pilate said to him, 'Do you not hear how many things they testify against you?' But he gave him no answer, not even to a single charge, so that the governor was greatly amazed". [Matthew 27:11-14].
Pilate wants to release Jesus but the chief priests dissuade him –
"He said to the Jews, 'Behold your King!' They cried out, 'Away with him, away with him, crucify him!' Pilate said to them, 'Shall I crucify your King?' The chief priests answered, 'We have no king but Caesar.' So he delivered him over to them to be crucified". [John 19:14-16].
The Roman soldier standing next to Jesus is carrying a standard that has a manus or hand at the top. This signifies the oath of allegiance that each soldier took.
The dedication on the brass plate below the tableau is:
IN MEMORY OF
THE PARENTS AND RELATIVES
OF JOHN AND MRS. HARNEY,
DUNHILL.