The Sixth Station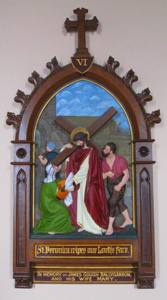 St. Veronica Wipes Our Lord's Face
There is no mention of Veronica in the gospels but  devotion to Veronica has existed since the middle ages. You can read a little more about her in connection with the second stained-glass windowof the north nave in Dunhill church.
The soldier, who has been most attentive to his duty so far, is shown in the tableau looking through a doorway with his back to Jesus, giving Veronica the chance to approach Jesus. The soldier will not be seen again until the tenth station.
The dedication at the bottom of the tableau is:
IN MEMORY OF JAMES GOUGH, BALLYGARRON,
AND HIS WIFE MARY.