The Seventh Station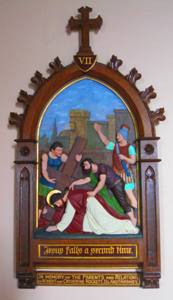 Jesus Falls A Second Time
Once again we imagine Jesus falling under the burden of his suffering and his cross. Inevitably, we think of the many times that we have fallen in our journeys through life.
The soldier in this tableau looks more like the Roman soldiers we are used to. His uniform is superior to that of the soldier who was with us so far so he is probably an officer. We will not see him again.
The dedication at the bottom of the tableau is:
IN MEMORY OF THE PARENTS AND RELATIONS
OF ROBERT AND CATHERINE ROCKETT, ISLANDTARSNEY.