The Sixth Station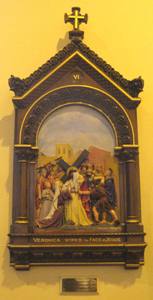 Veronica Wipes The Face Of Jesus
The gospels make no mention of this incident or of Veronica herself but devotion to Veronica has existed since the middle ages. The commentary on the second stained-glass windowof the north nave in Dunhill church will tell you a little more about her.
The man in the brown robe to the right of Jesus seems very irate. He is holding a flagellum in his right hand, the thongs of which are lying over his right shoulder, and he appears to be about to whip Veronica. We noted this man's ire in the fourth station, too.
A newcomer to the scene is the man carrying the ladder. Just in front of him is a small boy. Behind Jesus' left arm is a man who seems to be carrying a shallow basket on his head, but we cannot make out what is in the basket.
Simon of Cyrene is still there helping to carry the cross
The dedication on the brass plate below the tableau is:
IN MEMORY OF
THE PARENTS, BROTHERS, AND SISTERS
OF ROBERT AND HANNAH MOONEY.