The Seventh Station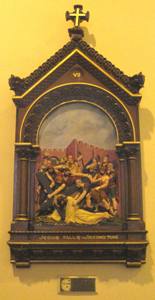 Jesus Falls The Second Time
Jesus has fallen again and a Roman soldier reaches out to help him. The man with the flagellum is strangely quiet, but the man next to him appears to be about to strike Jesus or the soldier with his raised right hand while Simon of Cyrene tries to prevent him.
The scene is quite crowded with thirteen people present including four soldiers. It is a scene of great activity but the priestly figures in the background are unperturbed and look serenely on.
The soldier at far right is frowning with his hand on his chin. What can he be thinking?
The dedication on the brass plate below the tableau is:
IN MEMORY OF
THE PARENTS AND RELATIVES
OF JOHN MURPHY,
KNOCKAHEAD.