The Ninth Station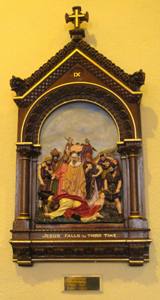 Jesus Falls The Third Time
Jesus has fallen yet again. The crowd looks on with mixed emotions. Some appear to be dispassionate, others are curious while one man holds his head in anguish.
In the background, two prisoners are led uphill by two soldiers. Are these the two robbers that were crucified along with Jesus? Are they nearing the place of a skull known as Golgotha, or Calvary in anglicised Latin? –
"So they took Jesus, and he went out, bearing his own cross, to the place called the place of a skull, which in Aramaic is called Golgotha. There they crucified him, and with him two others, one on either side, and Jesus between them". [John 19:16-18].
"Then two robbers were crucified with him, one on the right and one on the left". [Matthew 27:38]
The man carrying the basket on his head is there again and we can now see that one of the articles in the basket is a jar or ewer, but the others are still a mystery.
The dedication on the brass plate below the tableau is:
IN MEMORY OF
THE PARENTS AND RELATIVES
OF MICHAEL AND MARY K. VEALE.