The Fifth Station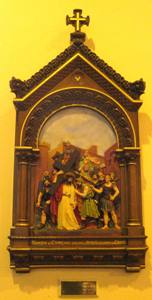 Simon Of Cyrene Helps Jesus To Carry His Cross
The scenes described in the third and fourth stations are not mentioned in the gospels but this scene is –
"And as they led him [Jesus] away, they seized one Simon of Cyrene, who was coming in from the country, and laid on him the cross, to carry it behind Jesus". [Luke 23:26].
Cyrene was an important city in east Libya, but Simon may not have been coming from there. He may have been living locally. Jesus is looking back at Simon and they appear to be talking together. Wouldn't that be a natural thing to do, to say "Hello" or "Thanks!" to the man who was carrying your cross with you?
A priest is brandishing a scroll – could it be Pilate's inscription? In the background another priest is flying through the air on horseback about forty feet up, apparently. He is preceded by another flying horseman, a soldier who is carrying a Roman standard which has the aquila or eagle at the top.
The dedication on the brass plate below the tableau is:
PRESENTED IN MEMORY OF
MARY O'KEEFFE, BALLINAGGREE
BY HER HUSBAND AND CHILDREN.