The Eighth Station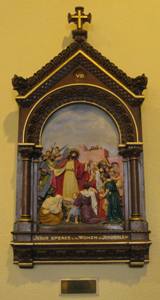 Jesus Speaks To The Women Of Jerusalem
Luke is the only evangelist to record this event –
"And there followed him a great multitude of the people and of women who were mourning and lamenting for him. But turning to them Jesus said, 'Daughters of Jerusalem, do not weep for me, but weep for yourselves and for your children. For behold, the days are coming when they will say, "Blessed are the barren and the wombs that never bore and the breasts that never nursed!" Then they will begin to say to the mountains, "Fall on us," and to the hills, "Cover us." For if they do these things when the wood is green, what will happen when it is dry?'" [Luke 23:27-31].
Five women and three children are in the foreground representing the many who were actually present. The flagellum carrier is having a quiet moment and Simon is still carrying his piece of the cross.
Two men are watching everything from the top of the city walls.
The dedication on the brass plate below the tableau is:
THE GIFT OF
MARY BRENNAN
IN HONOUR OF THE HOLY SOULS.