The Eleventh Station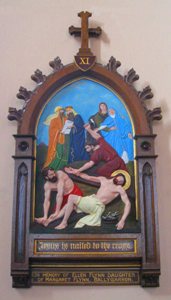 Jesus Is Nailed To The Cross
Jesus was probably nailed through the wrists rather than the palms as that was the practice among the Romans. The feet were nailed through the ankles, just in front of the Achilles tendons.
This is a crowded tableau with seven people in it – more than in any other tableau. In the background on the right is Our Lady. The man with her is, probably, "the disciple whom he loved" – all the others had run away. This disciple was with Our Lady at the foot of the cross in John's gospel, although we do not see him in any of the remaining tableaux.
The other two men in the background are probably Pharisees. One of them is holding a scroll that may well be Pilate's inscription.
The dedication at the bottom of the tableau is:
IN MEMORY OF ELLEN FLYNN, DAUGHTER
OF MARGARET FLYNN, BALLYGARRON