The Ninth Station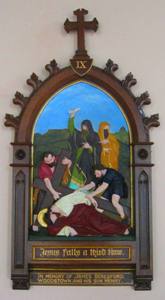 Jesus Falls A Third Time
We see again the man in blue whom we saw in the fifth station and whom we identified as Simon of Cyrene – the man wearing brown boots who was aiding Jesus.
We also see two more onlookers. They are wearing richer garments than the two at the third station and may be Pharisees. One of them appears to be pointing at the other who is brandishing a scroll. What is written in the scroll? Perhaps it is the inscription that Pilate wrote in the second station.
In Fenor church, one day long ago, during the Stations of the Cross, after the priest read out, "Jesus falls a third time", a small boy with a piercing voice cried out, "How the ***** could he fall three times?" The small boy is a man now and, assuredly, knows the answer.
The dedication at the bottom of the tableau is:
IN MEMORY OF JAMES BERESFORD,
WOODSTOWN, AND HIS SON HENRY.