THE IMPORTANCE OF A SENSE OF PLACE
(These are the notes used by Monsignor Michael Olden when delivering a talk on Sunday 14th October 2012 at the Seaview Celtic Clubhouse, Annestown, Co. Waterford on the occasion of a Gathering of Parish Volunteers from the parish of Dunhill and Fenor. The talk may be heard by clicking on the loudspeaker icons distributed throughout the notes.)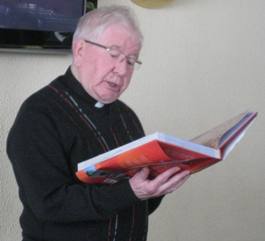 I will begin with an extract from a beautiful introduction to a favourite book which I often consult, Sacred Places of a Lifetime: 500 of the World's Most Peaceful and Powerful Destinations. The book is published by the National Geographic Society (2008). The Quotation is from the introduction of the Editor-in-chief, Keith Bellows.
"I am in southern India, sitting before a wizened man who cannot be younger than 80. He has spent an hour examining my eyes, my feet, my hands, my breath and, as he says, my spirit. 'You need work to balance your body and your mind – and your intentions'. This happened six years ago. I didn't understand what he was talking about. I do now. Our world is so busy and full of duty. So full of commitments, to-do lists, traffic jams, lost time, and the endless cycle of balancing home, work, and self. Yet, as life's pace has quickened and become more complex, we yearn for something deeper, more transformative, more reflective. Something that sl-o-o-ows us down, gives us pause. Allows us to collect our thoughts so the body and mind can catch up. Our essential spirit drives us to tap the sacred – the forces, symbols, icons, and beliefs that have touched and guided humankind for centuries. You could say that the goal is inner peace – a talisman against the complexity of modern times.
"Sacred Places of a Lifetime brings together the ideas of the mind and the ground beneath your feet. It's a book not about spirituality or religion, but about those places that channel the wisdom of the ages, of far-flung cultures and unique perspectives. This book explores the new magic – magnetic destinations that have the power to change and move you. To alter your view of the world and your life. To empower you to commune with the forces of nature and the rhythms of the body. Travel is more than a journey of paces and spaces. It should also move your spirit. As I reflect back on my visit to India, I realise my journey has just begun. You can start yours here".
It might be of interest that, of the 500 places dealt with in this large book, six Irish places are chosen as particularly significant:
The Book of Kells; Croagh Patrick; Newgrange; St. Brigid's Well, Kildare; St. Patrick's Footsteps (Croagh Patrick, Lough Derg, Downpatrick); Skellig Michael.
As I see it, you are gathered here in Annestown this afternoon to reflect on the community, the parish community of which you are members and in which you are actively involved. This involvement goes much further and deeper than just working for the Church. I like to think of the Church not as buildings nor territory but as the Christian spirit at work in the general community.
Most of you, I am sure, are involved in many community organisations. In fact this parish is very acknowledged and highly regarded as one in which there is a strong sense of community. One thinks of the G.A.A. and other sporting organisations, the business park in Dunhill and the many groups and events which are connected with it, farming groups, and many others.
The church is not meant to be just another organisation. Neither should it ever be, or attempt to be, a controlling organisation. It should be a spiritual agent, an animator, a gentle force for a lot of good amongst the people. I think your late pastor, Fr. Gerry Purcell, saw the church in this light. He did not try to control. He sometimes might mention, gently, some need. And he had a kind of delightful charm with a touch of helplessness built into it that quietly inspired people to come together and co-operate with each other in some endeavour or other. I never saw him so touched as when he returned from hospital after a serious illness and found that, in his absence, good people had come together and had had the walks around his house in Fenor tarmacademed so that he could stroll with ease during his convalescence. The Church, I believe, should never be narrow or churchy (in the bad sense of that word) or competitive. It should think much more about its gentle influence on the world than about its power as an organisation.
When I look back over my growing up as a Catholic, I don't find myself remembering great sermons that might have been delivered at Mass on Sundays, but I do remember people – people, lay and clergy, who were sincere and faith-filled, and fine examples of Christian living.
As you ponder on your own role, personal and community, in the Church of this parish you should try to bear in mind that there were always people here who had a spiritual inclination. Such people were here before ever there was a church or before ever there was Christianity. We in this new millennium should be reaching back and building upon this rich legacy of spirituality which has been handed down for thousands of years.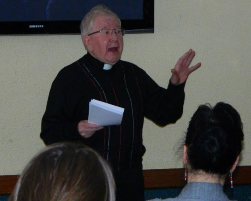 The Church, the community which follows Christ in a special way, should be respectful towards the ancient spirituality and the sacred places which we have inherited. There may be people in this area who never go to Mass and perhaps do not believe in the Church. But they may be spiritual people. The term 'practising Catholic' is sometimes an overused term and far too narrow in the way it is applied. There could be Mass-goers who are less spiritual than people who do not attend Mass. Of course, we should be delighted if the entire population of the parish could come together to worship every Sunday but we should never be dismissive or negative about those who do not join us. We should gently try to influence them but never dragoon or coerce them. Like us they may be legatees of the ancient spirituality, signs of which may be found in practically every field of our parish.
The history of any parish is never simple. The present parish of Dunhill and Fenor would be about 250 years old. Before that time there were three parishes: Dunhill, Reiske, and lslandikane. There were no parishes at all before about 1,200 A.D. but there were many churches and their names and, sometimes, their ruins are with us still.
Dunhill church had three earlier churches before the present church. They were called Cappagh which simply means a plot of land. It was the land on which the churches were built. Two of them were on a plot beside where the present church is, the third was located near the castle. The present church was built in 1884. The ancient parish of Dunhill had as its patron St. David of Wales. This south-eastern part of Ireland is very near Wales and was influenced by Wales in its early Christian times.
Reiske, meaning Swamp or Morass, had quite a large church building whose ruins can still be seen in the old cemetery. Clearly there must have been a sizeable population in Reiske.
Islandikane, meaning O'Kane's Island, later became Fenor which means the 'Whitish Plain'. The O'Kanes were one of the minor families of the Deise tribe. The old ruined church stands in the ancient cemetery. The land attached to Reiske was impropriated to the Knights Templar who, in medieval times, had a preceptory in Killure.
Between the three parish churches just mentioned there were at least nine earlier old Celtic churches in this area:
Kilfarrassy
St. Fergus's Church. There were ten SS. Fergus in the old Irish
martyrologies or lists of saints.
Ballylenane
Lenane's Homestead. The name is connected with the Welsh word 'Sant'.
Killone
Church of Eoghan. Eoghan was brother of St. Colmcille.
Killsteage
Church of Steage. There was a village and a church here.
Kilcannon
Church of St. Conan. No remains of the old church but there are places
such as An tSeana Sráid, Bán a'tSagairt, Bannsa (Glebe).
Smoor
'Rubbish' or 'Embers'. Old church site here.
Ballydermody
Diarmaid's Home. Old church site.
Ballyphilip
Cillín. Ancient graveyard and church.
Kilcarton
Carton's Church.
Carraig a'tSagairt
In Clonfada.
Modern Dunhill and Fenor Parish is composed of a very interesting group of ancient churches which probably go back to the early days of Christianity in this area of Ireland. And Christianity reaches back a very long way here. St. Patrick did not come to this area, probably for the reason that he did not need to. Christianity was here before Patrick's time.
He himself came to Ireland from Wales where there was a strong Christian presence going back to the times of the Roman Empire. Wales and the south–east of Ireland were closely connected through shipping and trade – sometimes, indeed, slave-trade. Patrick himself came to Ireland as a young lad as a slave. Later in life he came as a bishop and spread the Gospel throughout much of Ireland.
St. Declan of Ardmore was the leading Christian influence in this part of the country. He was a member of one of the leading families of the Deise. From his monastery in Ardmore monks, presumably, came to places such as modern Dunhill and Fenor and ministered as priests in the various churches which we have mentioned. In fact, according to references in an early Life of St. Declan written in Latin, called the Vita Deglani, his nephew was St. MacLiag. MacLiag's church was on a headland near Carbally, just up the sea shore from Clocharnach. The ruin of this church can still be seen. When Declan came to die in Ardmore he sent for his nephew MacLiag to come and anoint him in preparation for death.
The Irish church was composed of monasteries such as Ardmore and Lismore until the twelfth century when dioceses were set up and, a bit later, the dioceses were divided into parishes. Where modern Dunhill and Fenor are at present is very interesting because there are two dioceses involved. Fenor is in Waterford diocese, Dunhill is in Lismore diocese.
The modern boundaries are as follows:
| | |
| --- | --- |
| Waterford: | Portlaw (in part), Ballyduff (in part), Butlerstown, Fenor. |
| Lismore: | Portlaw (in part), Ballyduff (in part), Dunhill. |
PRE-CHRISTIAN SITES IN OUR PARISH
| | |
| --- | --- |
| Balllybrunnock | 'Bán an Bhreagáin' (Field of the Effigy), a large cairn of stones on top of a hill. Burial site. |
| Ballymote | So-called from a circular mott close to which stands a slender and graceful pillar-stone, probably marking the grave of a pre-Christian chieftain. |
| Ballynaclough | 'Homestead of the Stone'. A remarkable dallan close to Crotty's home. It seems to have been inscribed. Probably a burial place. |
| Ballyvellon | 'Mellon's Homestead'. A number of fine pillar stones, one of them with an ogham inscription (the early writing on stone): Cumni Maci Macoi Fagulfi 'Remember the son of the son of Fagulf' – clearly a chieftain's grave. |
| Matthewstown | A dolmen, pre-Christian grave called 'Leaba Thomáis Mhic Cába'. A similar grave with the same name is to be found on Inis Meadhan in the Aran Islands. Probably relates to some ancient story or saga. |
| Carrigvarahane | 'The Rock of the Tow'. Nearby is 'Bán a'Leacht' Field of the Stone monument – where someone is buried. |
| Ballynageeragh | 'Village of the Kerry Men'. A fine dolmen grave here. |
| Ballynagorkkagh | 'Village of the Cork Men'. Perhaps a little village where a Cork family lived. |
| Ardnahoe | 'High Place of the Graves'. A Pre-Christian graveyard where there is a Cromlech |
| Caher | Cathair (Stone Fort). Where there is a field called the 'Ulsterman's Field' Bán an Ultaigh. |
SENSE OF COMMUNITY FOUND IN ANCIENT TIMES
| | | |
| --- | --- | --- |
| Islandtarsney | 'Sráidín' | (littlestreet). |
| Whitefield | 'Seana Shráid' | (old street). |
| Ballybregin | 'Seana Shráid' | (old street). |
| Ballylenane | 'Seana Shráid' | (old street). |
| Kilsteague | 'Bán na Sráide' | (field of the street). |
| Kilcannon | 'An tSeana Shráid' | (the old village). |
| Ballybrunnock | 'Barra na Sráide' | (summit of the street). |
ANCIENT WELLS
| | | |
| --- | --- | --- |
| Ballylenane | 'Tobar na Speile' | well of the scythe. |
| Ballyleen | 'Tobar na Caillighe' | well of the witch. |
| Benvoy | 'Tobar na gCocán | well of the straws. |
| Castlecraddock | 'Martin's Well' | pattern used to be held here. |
| Killone | 'Tobar na Lárach Baine' | well of the white mare. |
| Killsteague | 'Tobar Mhic Chéin' | well of the son of Cian. |
| Ballyscanlan | 'Tobar a'Chomharta' | well of the signal. |
| Ballybrunnock | 'Tobar na Reidhe' | well of the untilled mountain place. |
| Carraigvarahane | 'Cúil an Uisce' | corner of the water. |
| Clonfada | 'Tobar a'tSrutháin' | well of the little stream. |
CONCLUSION