The Second Station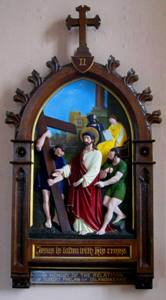 Jesus Is Laden With His Cross
It is unlikely that Jesus would have carried a complete cross. Rather, he would have carried only the horizontal cross-piece. The vertical shaft of the cross was usually left in situ after the previous crucifixion and ready for the next.
Pontius Pilate is still in the background of the tableau holding what looks like a tablet with writing on it. Perhaps it is the inscription that was affixed to the cross –
"Pilate also wrote an inscription and put it on the cross. It read, 'Jesus of Nazareth, the King of the Jews.'" [John 19:19]
Of course, that is an English translation. It was actually written in Hebrew, in Latin, and in Greek.
The dedication at the bottom of the tableau is:
IN MEMORY OF THE RELATIONS
OF ROBERT PHELAN OF ISLANDIKEANE