The South Transept Windows
In the south transept there are seven windows including a small window, shown below, in the peak of the gable. The other six windows will be shown in a west to east (right to left) direction, numbering them 1 to 6, respectively. They may be accessed from the menu at top left.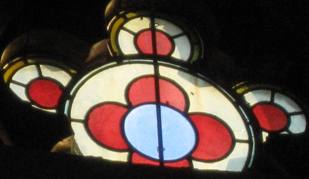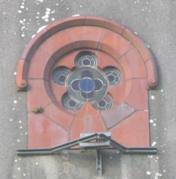 This is the window in the peak of the gable. As with the other peak windows, it cannot be photographed properly without the aid of a ladder or a brontosaurus.
This window, too, is partially hidden by its masonry surround. It is identical to the peak window in the north transept. The view from the outside shows a bracket that was once used to support an aerial.