The Fourteenth Station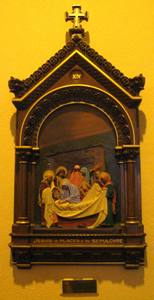 Jesus Is Placed In The Sepulchre
Jesus is dead, wrapped in his shroud, the empty spice jar on the floor. At his head and feet are Joseph of Arimathea and Nicodemus. One soldier is present – presumably the faithful centurion. Jesus' mother holds him and looks down on his face. Behind her are the three grieving women of Galilee. On her right is the beloved disciple. –
"So they took the body of Jesus and bound it in linen cloths with the spices, as is the burial custom of the Jews. Now in the place where he was crucified there was a garden, and in the garden a new tomb in which no one had yet been laid. So because of the Jewish day of Preparation, since the tomb was close at hand, they laid Jesus there". [John 19:40-42].
The dedication on the brass plate below the tableau is:
PRESENTED BY
MARY B. HICKEY, LOUGHDAHEEN
IN MEMORY OF
HER DECEASED RELATIVES.